Back in 1978 – when I worked for ten months, two weeks, and ten hours for the University of Northern Iowa – I traveled to Washington about one day per week to work as a consultant to YouthWork, a private intermediary firm between the U.S. Department of Labor and local governments with funds from the Comprehensive Employment and Training Act.
Northern Iowa also asked me to meet with various politicians when I was in Washington. That is how I met then-Representative Chuck Grassley from Iowa, who is now United States Senator Chuck Grassley from Iowa.
Chuck Grassley is now the senior United States Senator from Iowa. He is a member of the Republican Party. During the last four decades in the Senate, Grassley has chaired the Senate Finance Committee, the Senate Narcotics Committee, the Senate Judiciary Committee, and the Senate Aging Committee. He is a graduate, with two degrees, from the University of Northern Iowa.
Chuck (yes, he prefers Chuck) took me to lunch at a restaurant in the Capitol Building. Its specialty is Capitol Hill Bean Soup, which I ordered and enjoyed.
Before lunch even began, we launched into a debate about the role of dairy products in the Consumer Price Index, which was the subject of a New York Times front-page article just several days before. To my great surprise, he was knowledgeable about the issue, understood the Consumer Price Index, and had a definite opinion that differed remarkably from mine about the relative weight of dairy products in the Index calculation. We debated for about ten minutes.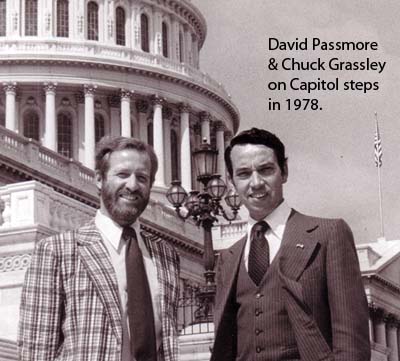 He was testing me, I think. He warmed considerably after that debate as we talked about his farm, our families, and Iowa. It was a great meeting, after which we had a photograph in Fig. 1 taken on the Capitol Building steps.
I know these "grip-and-grin" photos are stock, "for-the-visiting-rubes" items, but I did appreciate receiving this momento of our meeting that this photo represents. We had a great time at lunch so many years ago. I know some of you might have issues with Grassley's voting record and politics, but I think he was honest and straightforward with his dealings. And he usually chose his positions based on his convictions and beliefs – and he rarely wavered. There is something admirable about that.
Added when I reposted this essay on my current blog: Yet, what a shock it was for me to see Chuck parrot the Trump Great Lie. Discouraging. Deflating. Impossible to view him as I did in 1978.
Last updated on
[1] "2022-06-23 16:52:11 EDT"
Reuse
Text and figures are licensed under Creative Commons Attribution CC BY 4.0. Source code is available at https://github.com/davidpassmore/blog, unless otherwise noted. The figures that have been reused from other sources do not fall under this license and are recognized by footnoted text: "Figure from …".
To make comments about this posting or to suggest changes or corrections, send email to David Passmore, send a direct message on Twitter at @DLPPassmore, or send an IMsg or SMS to dlp@psu.edu.
Citation
For attribution, please cite this work as
Passmore (2009, Sept. 2). NOTES FROM PITTSBURGH: bean soup with chuck grassley. Retrieved from https://davidpassmore.github.io/blog/mem/2022-04-02-grassley/
BibTeX citation
@misc{passmore2009bean,
  author = {Passmore, David L.},
  title = {NOTES FROM PITTSBURGH: bean soup with chuck grassley},
  url = {https://davidpassmore.github.io/blog/mem/2022-04-02-grassley/},
  year = {2009}
}